[parallax imgurl="/wp-content/gallery/150316_rmc_2015_round_one/20150314-110727-P1150346.jpg" height="360″ ][/parallax]

As is usual testing took place on the Thursday and Friday, joined by his team mate Shahan Mohsin on the Thursday and Nik Zamir Zakwan and Putera Adam on the Friday.  Kai posted consistently quick lap times, on both old and new tyres, being only one or two tenths off the fastest laps of other drivers.  At the end of Friday Kai was happy with his setup and confident of a good qualifying (his personal bugbear from previous Sepang races).
Saturday
Saturday morning warm-up is always an interesting time, it's the first real opportunity to compare all the drivers in an official, timed session.  Kai went out positive but came back a little less so being only 13th fastest with 56.4 sec lap time (over half a second slower than his Friday average).  Not only that but the top five drivers had all posted sub 55.5 sec lap times, meaning Kai would be almost a second off the lead pace.  As is usual Kai gave feedback to the team and we hoped that qualifying would go better.  Unfortunately, despite new tyres, it didn't, Kai  improved only slightly on his warm-up time, posting a 51.17 sec fastest lap, that was only good enough for 16th place, some 0.9 sec off the leaders.
In the afternoon came the two ten-lap heat races which are started in qualifying position, points are awarded based on the finish position for each race and these added together to determine the pre-final start order.  In heat one Kai lost several places when he moved to the middle of the track to avoid an accident which occurred on the inside of the corner, he managed to regain a few places and finished 20th.  In the second heat he made a better start but got involved in a mid-pack battle which saw him finishing just 18th.  This wasn't the way he wanted to end the first day of racing and would leave a lot of work to be done on Sunday.
Sunday
Refreshed it was time to push as hard as possible to make whatever gains we could from what would be Kai's 19th place on the grid (the result of his 20th and 18th position heat finishes).  In the morning warm-up Kai was much happier with his kart setup and was 9th fastest with a 55.9 sec lap.   This positivity carried on to the pre-final where he made up five places finishing 14th and posting the 5th fastest lap of the race.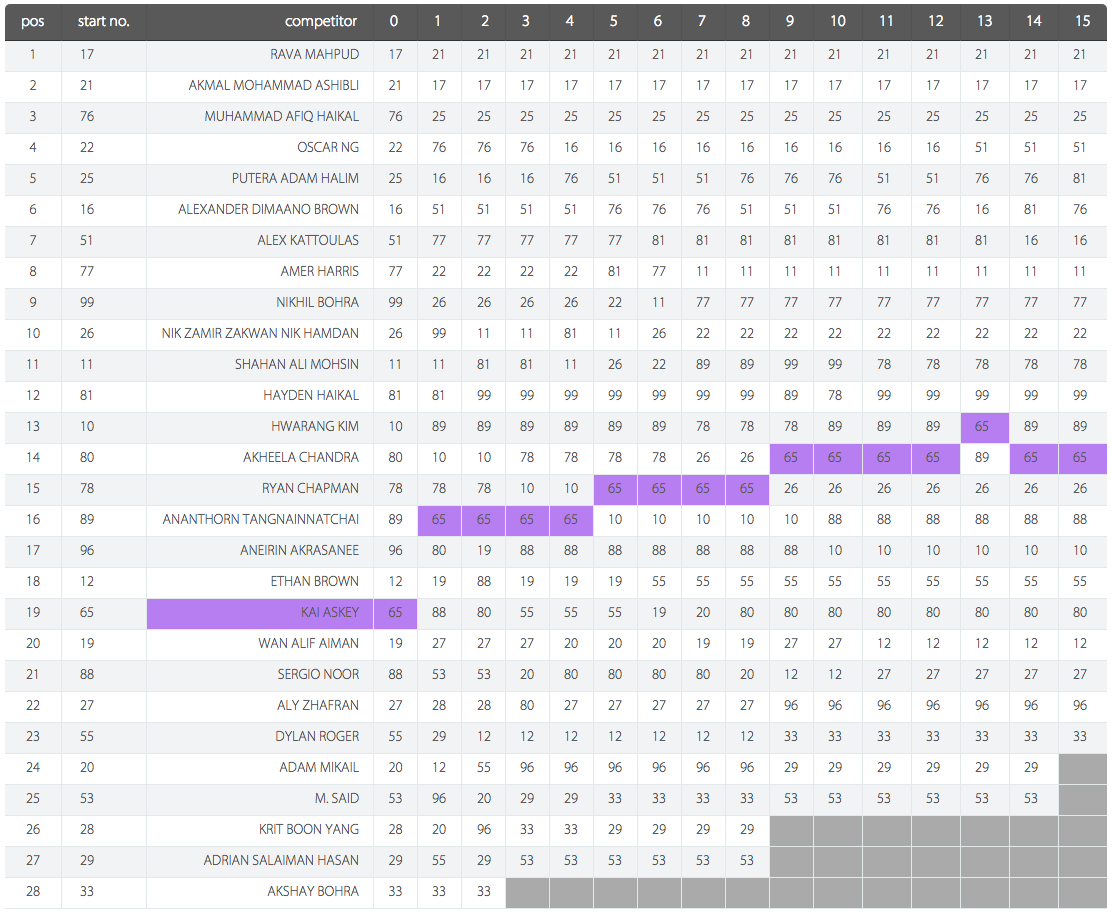 The fifteen-lap Final race came at 1.40pm, Kai took his 14th place grid position knowing he would have to work hard to get into the top 10.  As often happens at the start of a race at Sepang (likely because of the narrowing turn one) there was an incident which involved the front group of drivers (Kai's team-mate Putera was slightly injured and his kart was damaged, he retired immediately).  This allowed Kai to quickly move up to 8th position, he later made it to 7th however on the penultimate lap he was passed by his team mate Shahan and then made the mistake of counter-attacking on the next corner but lost too much speed and was subsequently passed by two more karts, he crossed the line in 10th (angry, rueing his mistake).
That would normally be where the story ends, however shortly after the end of the race three drivers were given 30 second penalties for overtaking karts under a yellow flag (on the second lap while Putera was still in his kart at turn one being attended to by the doctor).  This moved Kai up to 7th, quite some time later however one of those penalties was retracted dropping Kai back to 8th.
A great recovery from a poor Saturday and some valuable championship points in the bag, Kai did well to avoid the first corner incident in the Final and was lucky to gain two positions from other drivers penalties.  We (driver and team) still clearly have work to do to catch the lead karts which are still  faster overall.
Gallery
Video