Founded in 1995 and now in its 23rd year the South Garda Winter Cup, a CIK-FIA calendar race is often seen as the start of the racing season proper. Many famous names grace the Winter Cup Hall of Fame such as Jenson Button, Daniil Kvyat, Robert Kubica, Sebastian Vettel and Max Verstappen. This years event attracted over 330 drivers, with 86 in Kai's category, OK Junior. Kai's last race at South Garda was the 46th Trofeo delle Industrie in October where he was regularly fastest on track and finished a respectable 10th in his first ever OK Junior race, so he was feeling confident going into this five day event.
Qualifying
After two days of practise (Wednesday & Thursday) qualifying got underway on Friday, drivers were split randomly into three groups for their qualifying session. Kai was the first group to go out, after the 9 lap session he was 4th fastest in group just 0.077 sec off first. Once all the qualifying groups had completed their session the results were merged "zipper style" which placed Kai 12th overall, although 6th fastest on time. Just 0.651 sec covered the top 60 drivers.
Heats
Kai's 12th place in qualifying placed him in group B for the heat races. Heats were held over the next two days, in his first heat he finished 7th, in the next a difficult start saw him drop to 11th but he made up some places to finish 9th. In his third heat Kai made a much better start, 4th on the first lap, up to 3rd by the 3rd lap where he stayed to the flag.
The final heat race was a true test of skill as the rain came down just as the karts went out on slick tyres, almost half of the field didn't even finish, Kai finished a very good 6th place. Kai's consistent top 10 heat finishes combined to 25 points which placed him 8th overall (of the 86 drivers).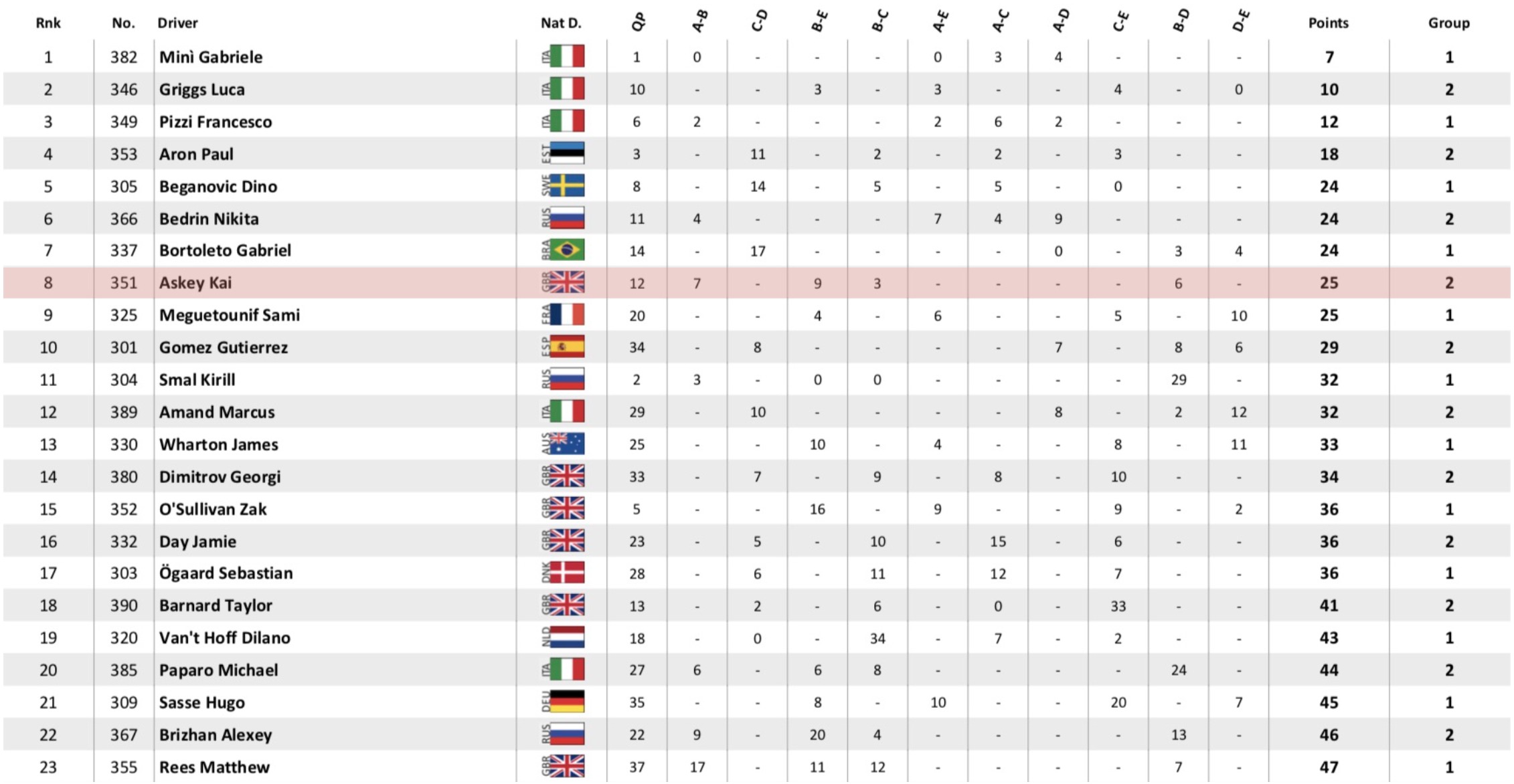 Super heats
The Winter Cup employs the rather unique "Super Heat" concept where all drivers are effectively given a second chance to improve their overall qualifying position before the final. Two Super Heat races take place with a maximum of 34 drivers in each (the top 68). Kai raced in the second Super Heat with the other even numbered placed drivers. He started 4th on the grid but his line didn't make a great start dropping him to 6th, over the course of the race he lost one more position to finish 7th which was later promoted to 6th after penalties to other drivers.
Overall points for each driver then calculated as a combination of their qualifying position, heat and super heat points. With 31 points Kai tied with three other drivers, then sorted by qualifying position. Kai would start the final in 9th place.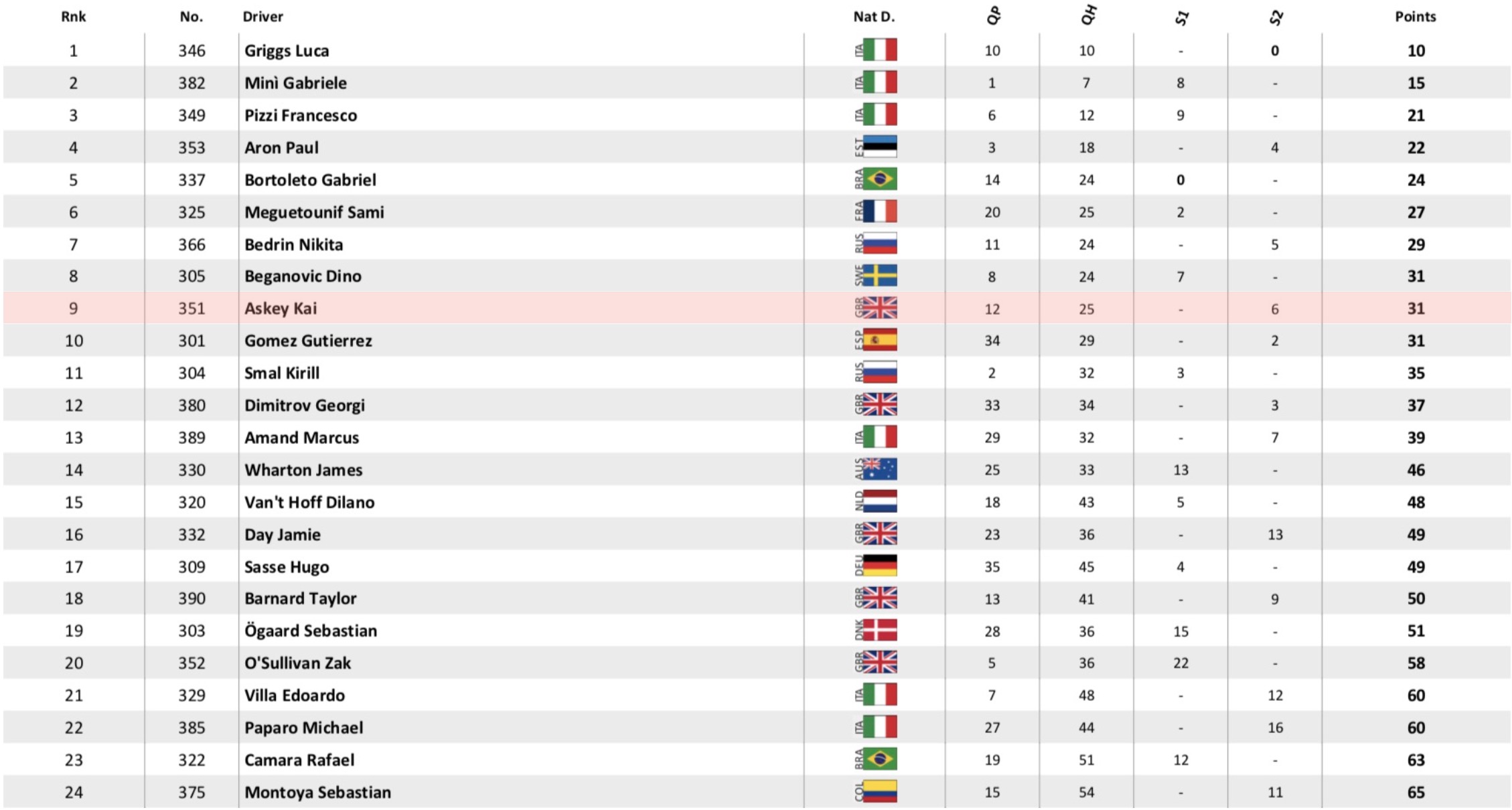 Final
Just in time for the finals at 4pm the track was pretty much dry, Kai had a good start and managed to move up to 6th in the early part of the race. Hard charging drivers from further back tangled with Kai and he dropped to 8th but made it back up to 7th where he crossed the line. This was later promoted to 6th after penalties. As one of the youngest on the grid, in his OKJ rookie year and against such a large strong grid this was an excellent result.
Click here for video of the Final (broadcast live at the time)
Gallery