[parallax imgurl="/wp-content/uploads/sites/2/2015/05/20150510-145602-RC1_6931.jpg" height="360″ ][/parallax]

The third round of the international 2015 Rotax Max Challenge Asia (RMC 2015) series on 16th/17th May moved on from Sepang to the Speedway Plus circuit which is beside of the Elite Highway in Subang (south Kuala Lumpur).  Speedway Plus is a new track to Kai, we visited the weekend before to get two days of testing plus the two days practice/setup before the race (Thursday & Friday).  Practice went well with Kai quickly getting up to the pace of his team mates, the generally accepted good time for Rotax Micro Max is 50.0, with sub-50 seconds only previously seen in qualifying and the "heat of the race".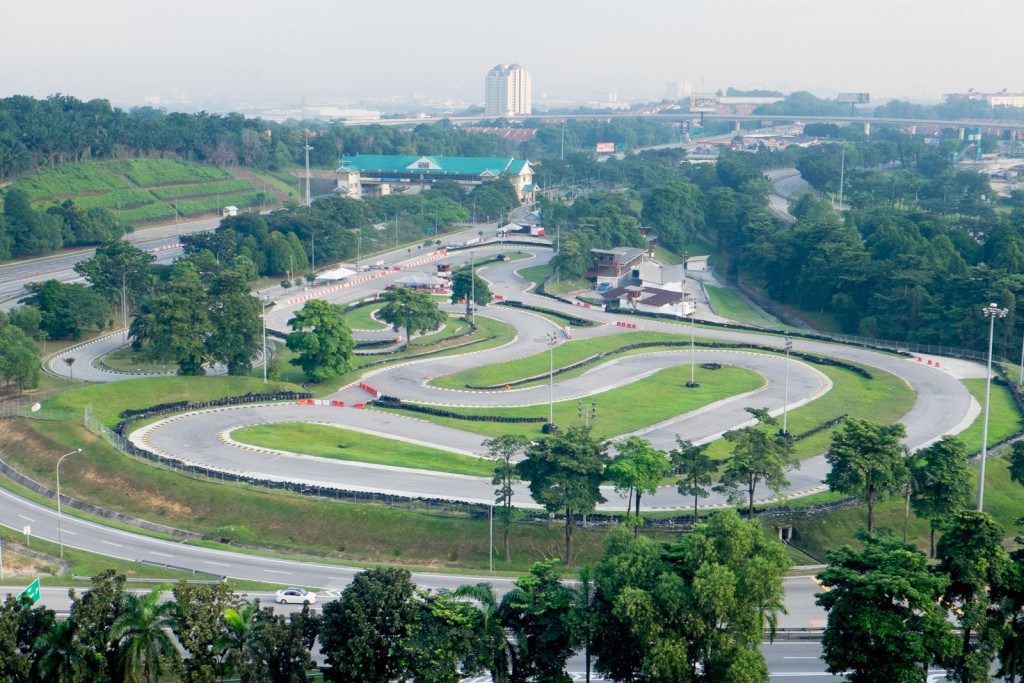 Saturday
Saturday started with two free practice sessions, in both of these Kai struggled for pace clocking only the 17th and 19th fastest times, we were all left scratching our heads as to where the "low 50's" times Kai had achieved previously had gone.  As usual the team set to work checking and tuning the kart to discover the issue and get some of the pace back.
Qualifying kicked off at 13:45, Kai got off to a good start with a 50.48 first lap and 50.37 second lap, it looked like the pace was back and he was getting quicker with each lap.  Unfortunately fate stepped in, the team gave a signal for Kai's team mate Putera to come in and this was mistaken by not only Kai but also team mate Nik, all three karts returned to the pits after the third lap, Kai's qualifying was over before he'd had a chance to get up to speed, he returned to the tent extremely disappointed.  With qualifying over Kai's 15th place would put him on the inside of the 8th row and he knew he would have to charge hard to get to the front.  More interesting perhaps was that the top three karts were so much quicker, clocking mid-49 second laps (0.33 sec gap from 3rd to 4th, average 0.04 sec gap for the next 17 karts).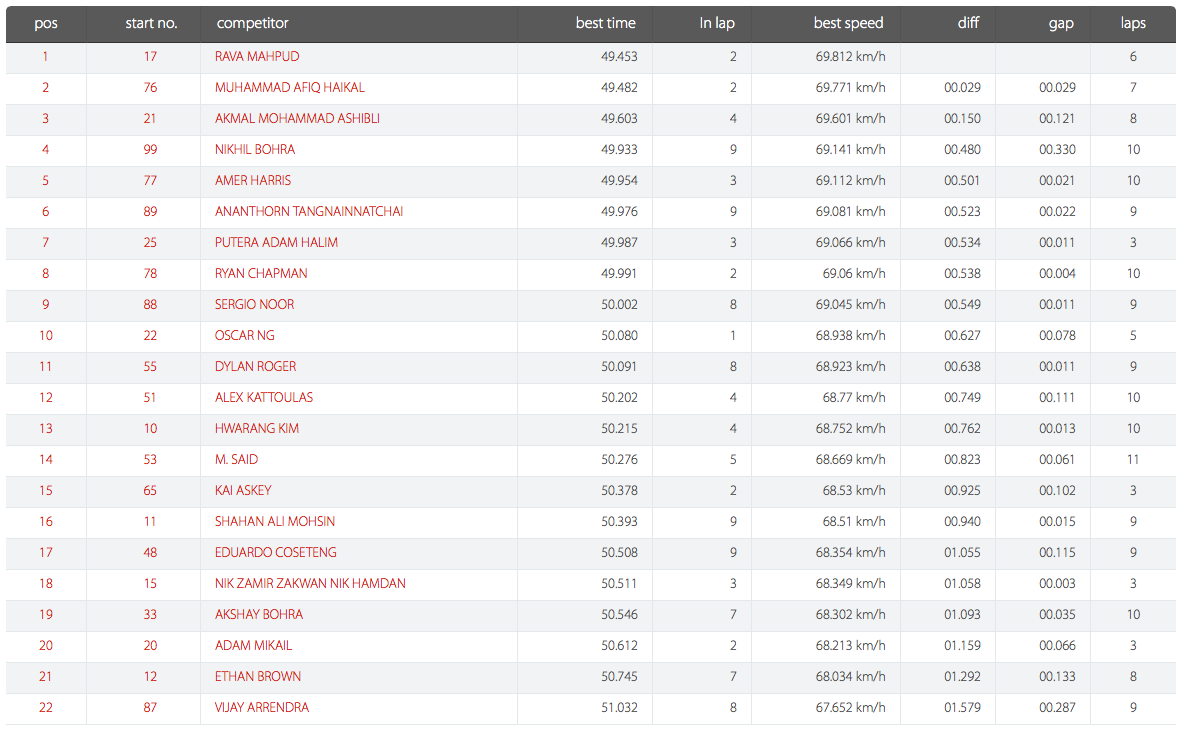 Kai was determined to make up as many places as possible in the two ten-lap heat races (both races grids are as per qualifying, so he would start 15th in both)  Just before the first heat race it began raining, the great equaliser, Kai loves driving in wet conditions so was very happy to see a wet track.  In the first heat race he lost a couple of places at the start but fought hard taking four places on the second lap and another four places over the next eight laps finishing 9th, he was later promoted to 8th because of penalties applied to other drivers.  By the second heat race the track was dry, Kai was hit in the first corner pushing him back to 19th, he fought back to 13th.  His starting position for the pre-final the next day would be 9th.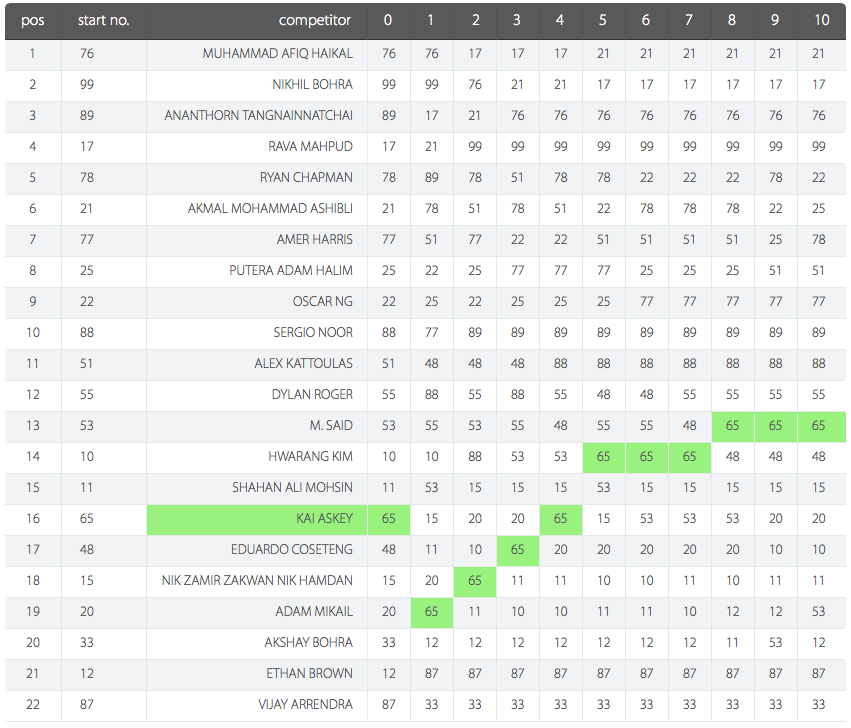 Sunday
Sunday morning seems to go very quickly, a 9 AM warm-up session followed by the pre-final at 10 AM.  Once again a hit from behind pushed Kai wide at the first corner and he lost four places crossing the line in 13th place after the first lap, Kai soon got caught up behind kart 55 who defended well, once he was past he made up another place eventually finishing 10th and was promoted to 9th after a penalty was applied to another kart.
Kai made a storming start in the final, from 9th he pushed forward to 7th before the first corner, loosing only one place after the first lap and then was involved in a very exciting "chasing pack" battle which saw no less than nine changes of position (Kai was up to a podium 5th place at one point), he finally finished a very respectable 7th and posted the 4th fastest lap of the race (49.864 sec, finally breaking the 50 second barrier).
Overall an excellent result from a poor qualifying position, lots of lessons learned and lots of work still to do but we were all very happy with Kai's drive, despite everything he made the most of it he could.  Thanks to I.S Racing and team principal Imran Shaharom.
Gallery
Video (pre-final and final starts)