[parallax imgurl="/wp-content/gallery/1504_rok_cup_2015_round_one/20150425-195202-L1003540.jpg" height="360″ ][/parallax]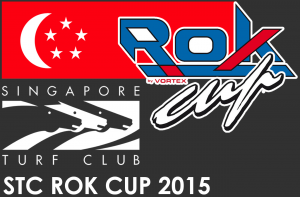 The Rok Cup is an international series controlled by the engine maker Vortex.  It is a new series to Singapore featuring no less than six categories and almost fifty drivers.  Engines are sealed and stored by the organizer and are then randomly drawn for the duration of each round.  This means a more equalized performance between karts and less chance of questions over cheating.  The qualifying, two races and prize giving occur on one day.  It's also the first race series to take place at the new KF1 Karting Circuit which is located at the Singapore Turf Club.
Due to school Kai wasn't able to attend the full practice day on the Friday before race day, arriving at the track at 5pm, just in time for scrutineering but with only four short sessions to get the engine tuned properly.  This didn't go well, problems with the supplied carburettor and a wet track meant it was impossible for us to be sure if the engine was properly up to speed, and there would only be one eight minute warm-up session on Saturday before qualifying.
Saturday
After the usual driver briefing (in the admittedly luxurious KF1 auditorium) events began at 1.15 pm with a short 8 minute (which ended up being just 5 minute) practice session.  Before qualifying a downpour of rain wet the track so the Cadet (Mini Rok) qualifying would be on wet tyres.  At the start Kai was held up behind a slower kart and despite backing off with only two laps to go he was in 7th place, he eventually passed the slower kart and posted a 1:02.566 lap, good enough for 3rd place on the grid.
Rok Cup Singapore has a rule where the pole sitter can choose to swap his position left or right, naturally Alex chose the left as it would put him on the inside of the first turn at the start.  However this meant that effectively Kai was now in fourth place as he was on the less advantageous outside behind the second place driver.  This played against him at the start and despite fighting hard he finished 5th where he would start the final.
The track was drier for the Final but all the cadets except for two remained on wet tyres, Kai got a good start and a spirited battle with Kalen Chin, he made it past Kalen to 3rd place with one lap to go however a back marker got in the way, Kai was blocked and Kalen cleverly sneaked past.  Kai finished 4th.  It was rightly upset as he believed he had a podium finish right up until 3 corners before the flag.  Onward to the next race!
Gallery