On a glorious May weekend the fantastic Glan-y-Gors track (GYG) in North Wales hosted third round of the 2016 Super One British Karting Championship.  Kai had practiced at GYG before but this would be the first he's raced there, against the best in the UK, a tall order indeed.

Friday practice was good with no less than seven eight minute sessions, just under an hour on the track, which is great considering the number of drivers participating that weekend.  On Saturday drivers were split into two "TQ" groups, Kai was in group two with his team mate Maxwell Dodds. The warm-up session went well, Kai went second fastest in his group with a 46.46 sec lap time.  In qualifying it would be very important to work with another driver, in order to get a "tow" (and to push) which could make a few tenths difference to the lap time.  The first TQ group went out and Kai's team mate (and O plate champion) Harry Thompson went fastest with a  48.91 sec lap.  The start of qualifying went well, Kai working with Max they both quickly went to the top of the timing with low 49 second laps.  Then Kai backed off, much to everyone's surprise, and then again on the next lap, with just one lap to go Kai was sitting in fifth, however somehow he managed to pull off the fastest lap of the weekend doing a 48.83 sec on his own (without any tow), this put him on pole for his two qualifying heats.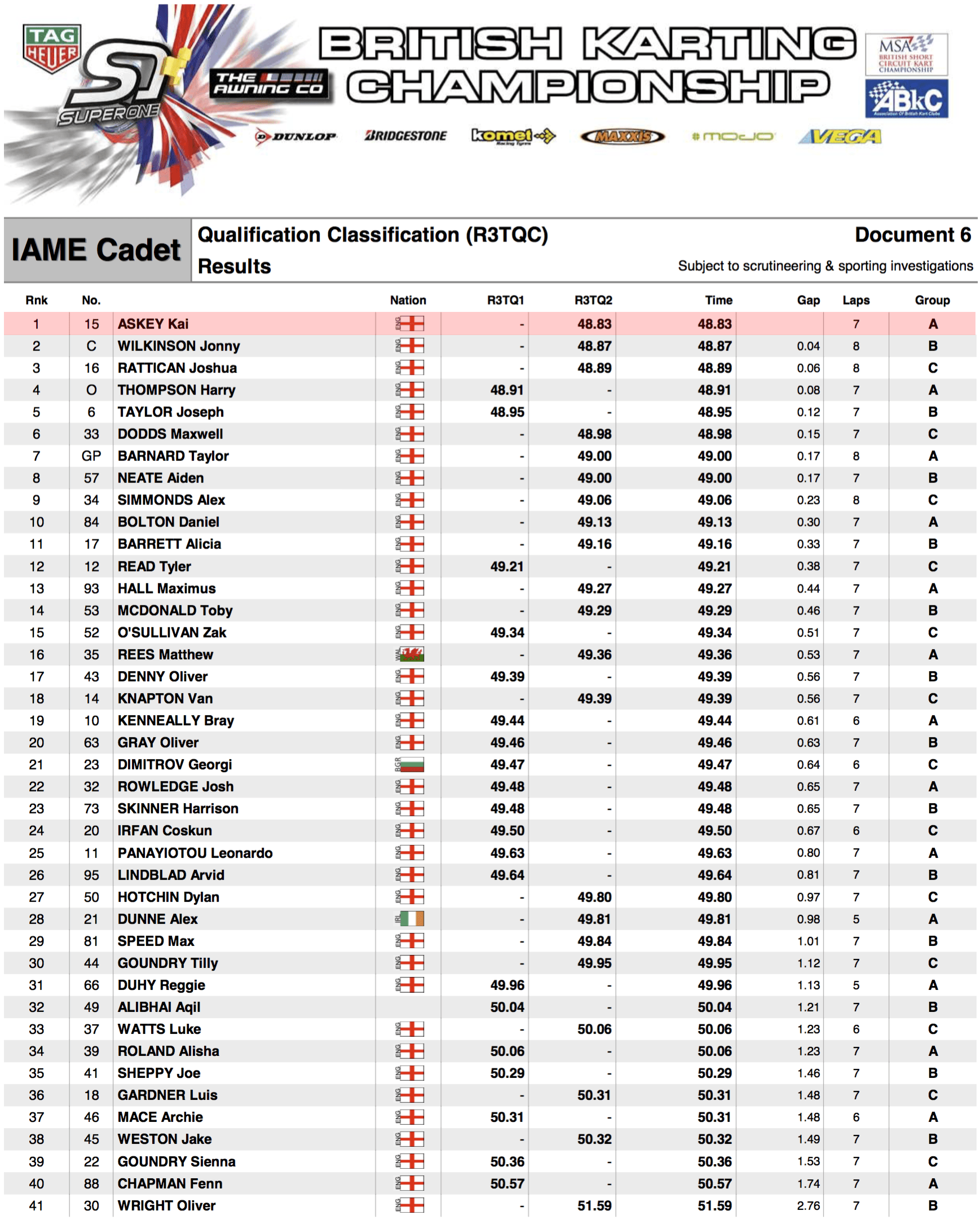 In the first heat (heat one) Kai started 1st and held on well against fierce competition losing only six places to finish seventh.  In his second heat (heat three) he was doing well, in fifth place until the penultimate lap but dropped a few positions to cross the line ninth.  This wasn't however the end of the story, on the second lap of that race Kai came out of the second-last corner and the kart in front of him made a mistake and was sliding to the left when Kai, driving his normal line, unintentionally touched it causing it to leave the track.  The clerk of the course, while agreeing with Kai that it was unintentional still considered it "Gaining an Unfair Advantage" and he was penalised 10 seconds dropping his 9th position to 21st.  The sum of points total from the heats meant that Kai would start the pre-final in 19th place.  A bitter blow for a young rookie who had worked hard to secure pole the very same morning.
Sunday
Continuing his good pace Kai was second fastest in his morning warm-up group (third fastest overall) and went into the finals feeling confident.  Kai took his 19th place on the grid, as expected it was a very tight race, Kai lost a few places on the first lap crossing the line 22nd but soon begun working his way through the pack eventually finishing up 5 places to 14th.  This was promoted to 13th after penalties applied to another kart.  Again on the inside of the grid Kai took his 13th place for the final, however just like the pre-final the start was tough and he dropped to 20th on the first lap, he worked hard to make his way up to 16th on the 5th lap but was side-swiped by another kart who was rejoining the track and lost three places, after this Kai put on a massive charge making up no less 7 places in the next 7 laps to 9th.  On the penultimate lap he was caught out by two drivers tangling in front of him, sending him wide and was passed by a group of karts behind, eventually finishing 13th.
Overall it was a weekend of great driving and tough lessons, of good pace the entire time but a number of incidents which were out of his control which cost him a top ten result.  The points he earned from this round allow him to maintain 10th place in the British Championship.  Onwards to the next round at Llandow (South Wales) in June.
Gallery