The IAME International Open 2017 at the Castelletto (7 Laghi) circuit in Italy would be Kai's first foray into racing in Europe and also racing in the faster X30 Junior class. In fact this four-day long event would be full of firsts for Kai:
First race in Europe
First time at the Castelletto (7 Laghi) circuit
First time driving an X30 Junior (EU)
First race in X30 Junior
As well as this Kai would be racing against forty-two of the best drivers from all over the world (the majority from Europe) and he was the youngest driver in the X30 Junior class at just 11 years old (he turns 12 at the end of the year). Thursday comprised of five twelve minute practice sessions where Kai got his first taste of the grippy Castelletto track. Kai immediately showed good pace and this continued during Friday practice.
Qualifying
Qualifying took place on Friday afternoon with the forty-two drivers divided into two groups. Kai was in group one (racing number 115) and throughout qualifying went progressively quicker finishing the session in second with a time of 50.698 sec. Group two went out for their session but the fastest driver only managed a 50.782 sec which meant that Kai was second overall after the results were merged. A good measure of how competitive the event would be is the fact that just one second covered all forty-two drivers in qualifying. For Kai this was an absolutely awesome performance giving him a great opportunity for good results in the heat races on Saturday.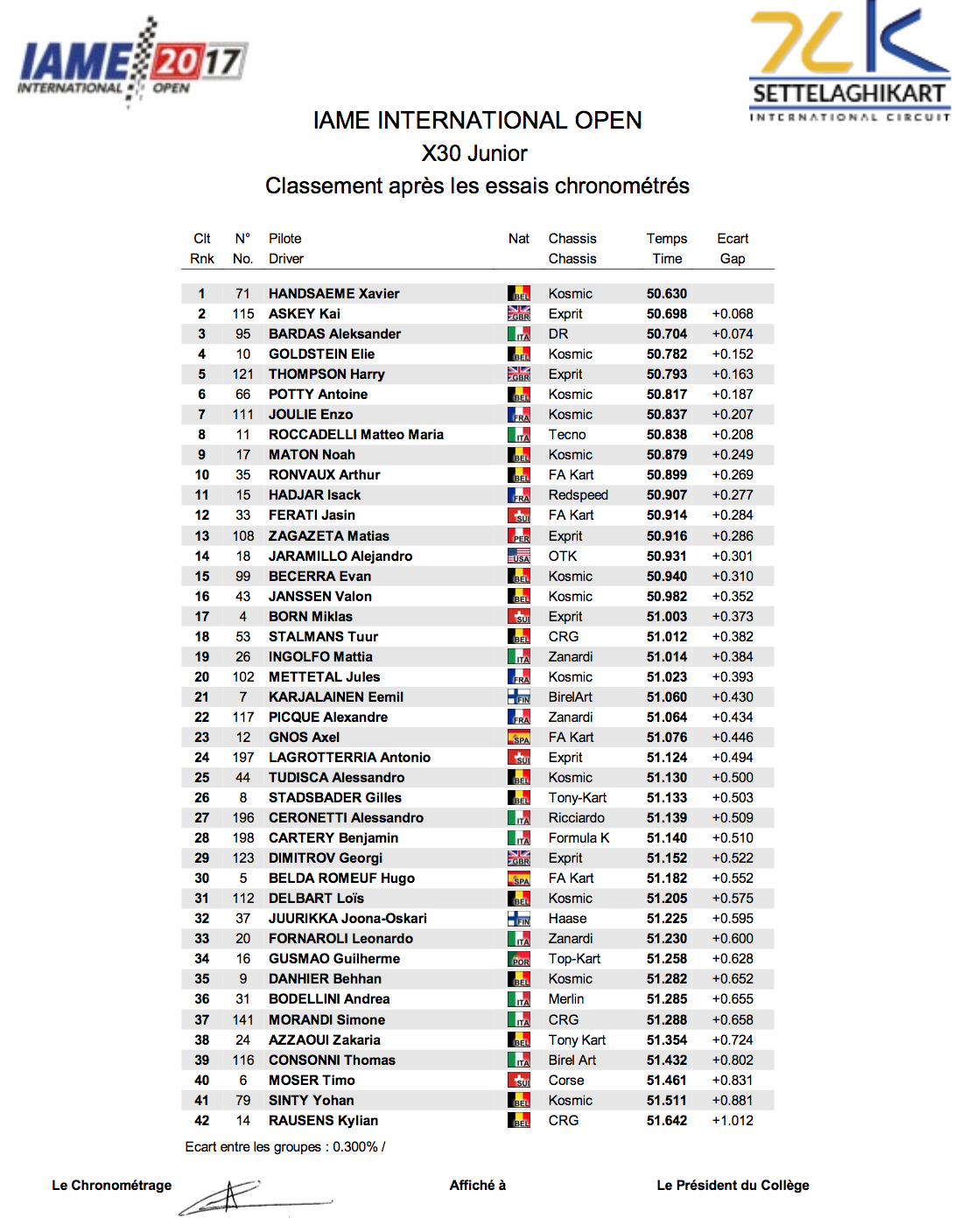 The qualifying grid was split into four groups (A, B, C & D) and each group would take part in three heats, in Kai's case he was in group B and would race in heats A vs B, B vs C and B vs D. His second place overall put him in second for the first heat and pole for the last two.
Heats
In his first heat (A vs B) Kai started second with Xavier Handsaeme alongside, very quickly Kai and team mate Harry Thompson tucked themselves into second and third place behind Xavier where they stayed until the last lap when Kai dropped back slightly and was passed by Tuur Stalmans finishing fourth. In the second heat (B vs C) Kai started on pole but lost a couple of places in the first few corners, he worked his way back to the front and passed the leader on the last lap to take the win. In his last heat (B vs D) Kai went well from the start and led every lap finishing first with a comfortable 0.5 second gap. (You can watch each of Kai's three heat races in the Videos section below).
Kai's two heat wins and one fourth place left him tied on points with Harry, but going slightly quicker in qualifying gave Kai pole for Final One with Harry alongside in second.
Finals
The first of the two finals started on Sunday morning, at the start Harry went for a swooping "around the outside" overtake of Kai which he pulled off and the two of them ran first-second for the first lap. Tuur Stalmans and the very quick Xavier Handsaeme got involved on the next lap with Kai dropping to fourth. Over the next thirteen laps Kai battled hard and managed to make his way back to second place, however a very forceful move by the surprisingly quick Elie Goldstein on the second to last corner put Kai on the grass and he had to settle for third place. (Video below).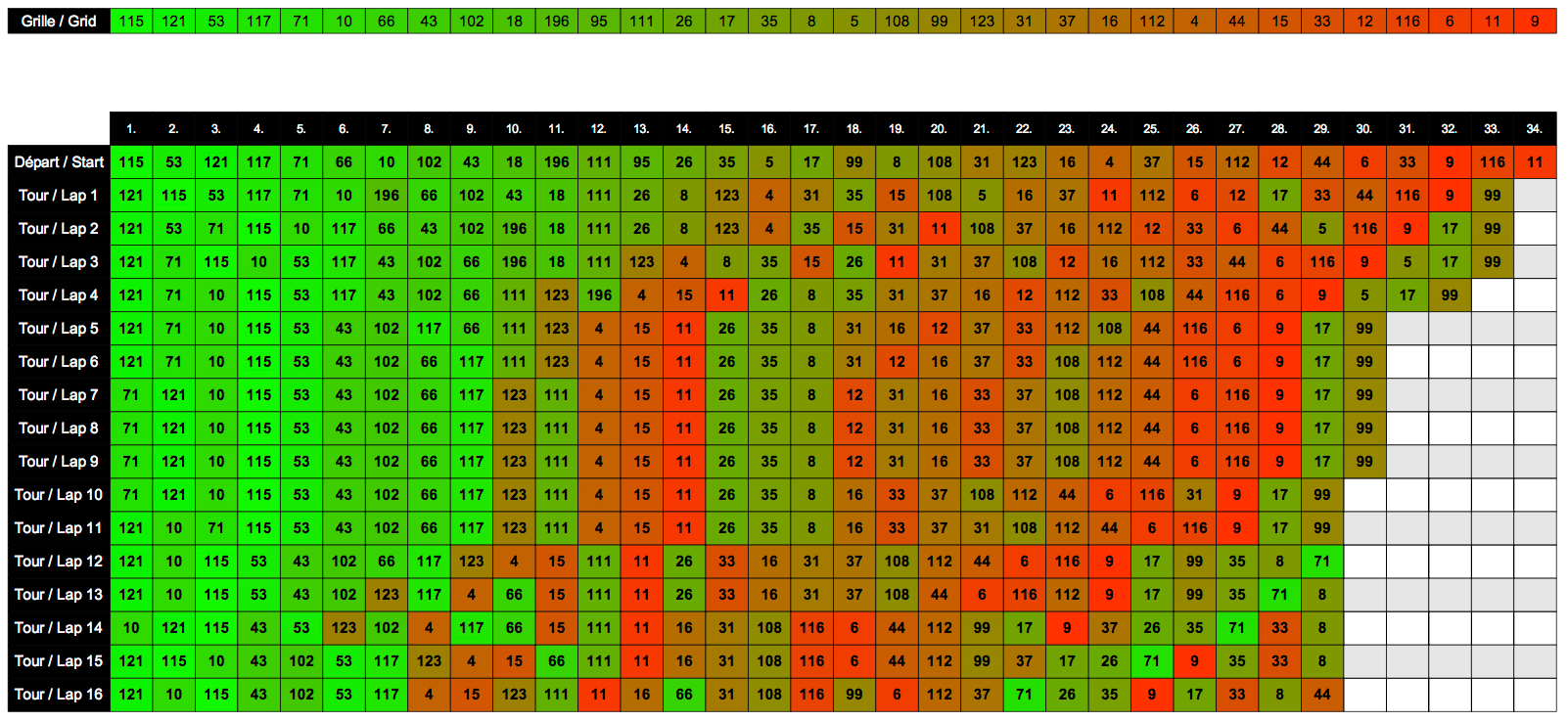 The grid for final two was defined by the finishing position from final one, so Kai started third. Kai got a good start and moved up to second place, however the more experienced drivers (some of who were surprisingly quick) managed to pass and push him back to eighth, Kai worked hard with good pace managed to make his way back to sixth with Elie Goldstein winning easily (nobody could catch him), Handsaeme second and Kai's team mate Harry Thompson third. (Video below).
Kai's natural disappointment of finishing lower than his grid position was soon quelled when he discovered that the combined points from the two finals put him third overall. An amazing result for his first European, first X30 Junior and youngest in class.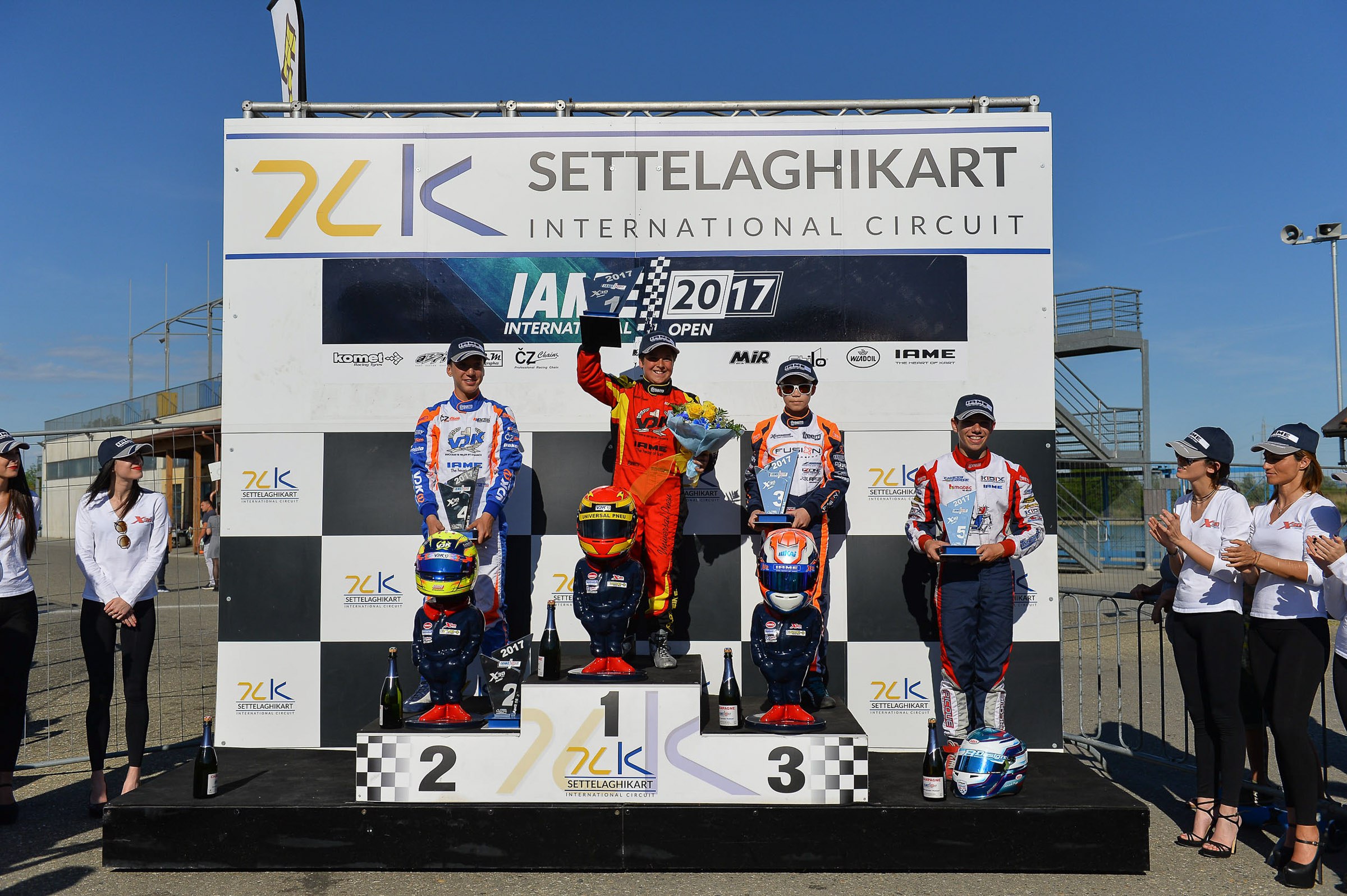 Videos
Kai is kart no. 115
First heat (A vs B) – finished fourth
Second heat (B vs C) – finished first
Third heat (B vs D) – finished first
Final One – finished third
Final Two – finished third
Gallery