Known affectionately as "the oldest race in the world" the Trofeo Delle Industrie ("Industry Trophy") started back in 1971 is now in its 46th year. This event would also mark a few firsts for Kai; first time racing at the famous South Garda Karting circuit, first time racing the faster OK Junior kart (and softer Vega tyres) and first time with his new team, multiple European and World Championship winning Ricky Flynn Motorsport.

In preparation for the race Kai had two practice days on the Tuesday and Wednesday which both went very well, Kai settling in to the new kart and team quickly although the physical effects of the more powerful kart and softer tyres (higher cornering speeds and hence G forces) weren't insignificant.
The race event official began on Friday with four practice sessions for each category / group. Kai did very well topping the timesheet in two sessions and finishing second and fourth in his group in two others. He did so well he got a mention in the official South Garda Karting news release that evening.


Qualifying
The 54 drivers were split into two groups for qualifying, Kai posted the 6th fastest time overall in qualifying, however the chosen method of merging was "zipper style" so the 1st place in group 1 placed 1st, 1st in group 2 placed 2nd etc., hence Kai was 10th overall. The combined qualifying result was then split into three heat groups (A, B & C) who would race against each other to decide who would make the cut-off for the pre-final and who would go to the repechage "second chance" race.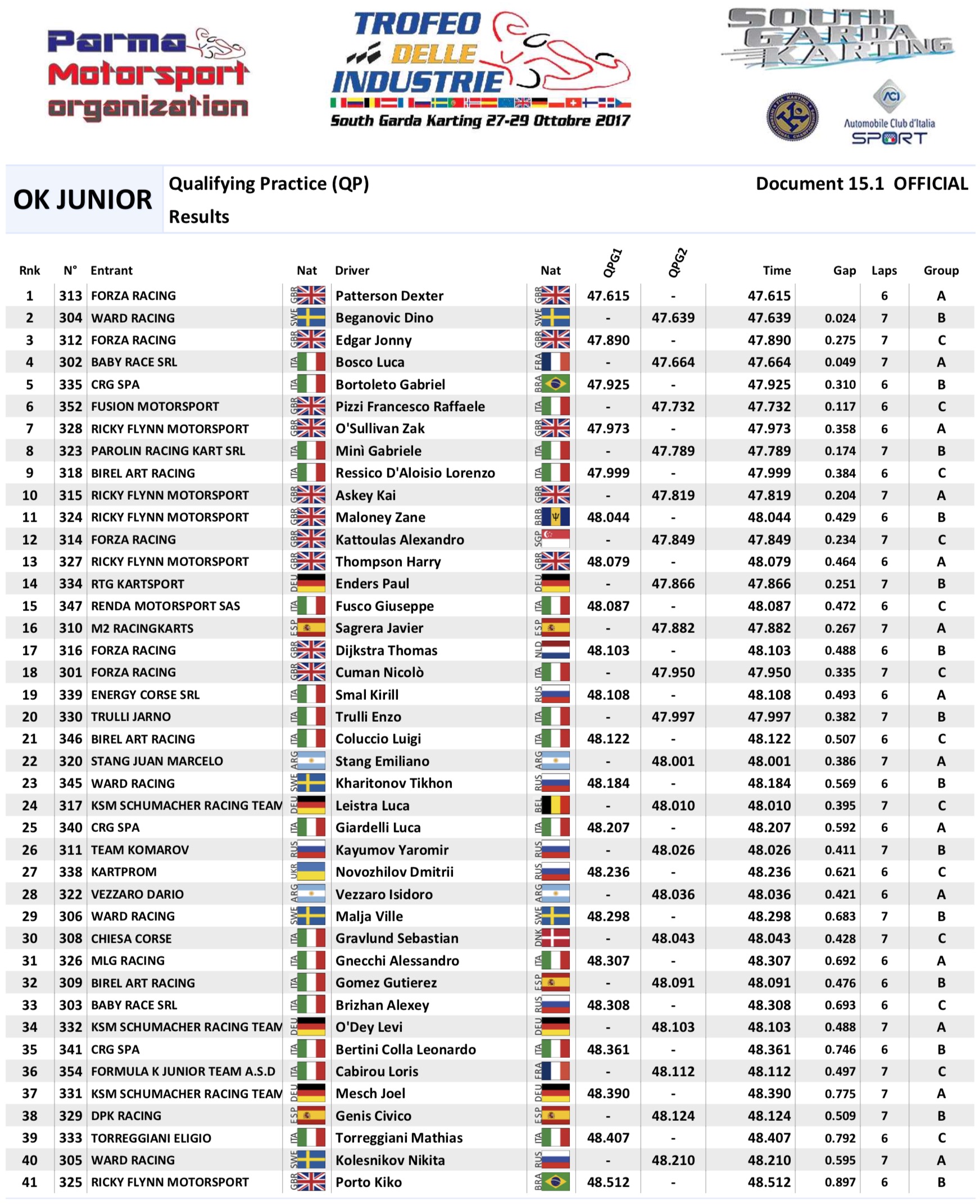 Heats
In his first heat (A vs B) Kai did well to finish 8th, however his luck ran out in the second heat (A vs C) when he locked up avoiding three slow karts at the first hairpin, went off and dropped his nosecone (an instant penalty). He fought back from 27th to 18th but the nosecone penalty dropped him to 25th. Combined points from the two heats placed him 19th overall (and avoiding the repechage).
Pre-final and Final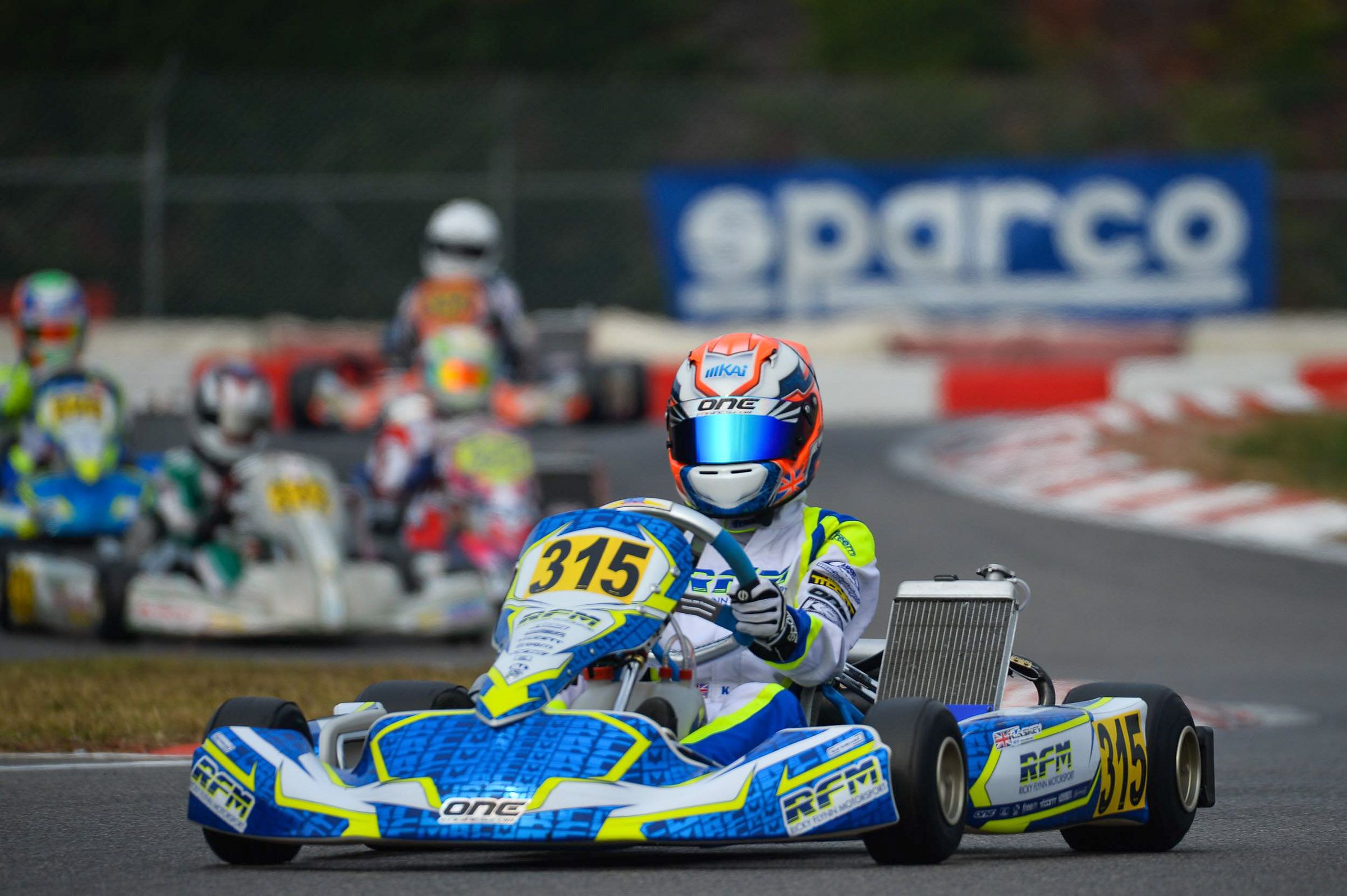 Kai started the sixteen lap pre-final well and quickly moved forward making up seven places and finishing 12th. The final started even better as he worked his way through the field posting fastest sectors and fastest laps overtaking five more on his way to 7th. Unfortunately an older driver saw Kai coming and began defending, slowing Kai considerably and causing him to be caught by the karts he had already overtaken, a battle ensued between these five karts and he crossed the line 10th.
Kai's participation in the Trofeo Delle Industrie was more of a test to see if he was comfortable in the new kart and team, nobody was expecting a particularly highly placed result so to finish 10th was a significant achievement for the youngest driver in category in his first OK-Junior race.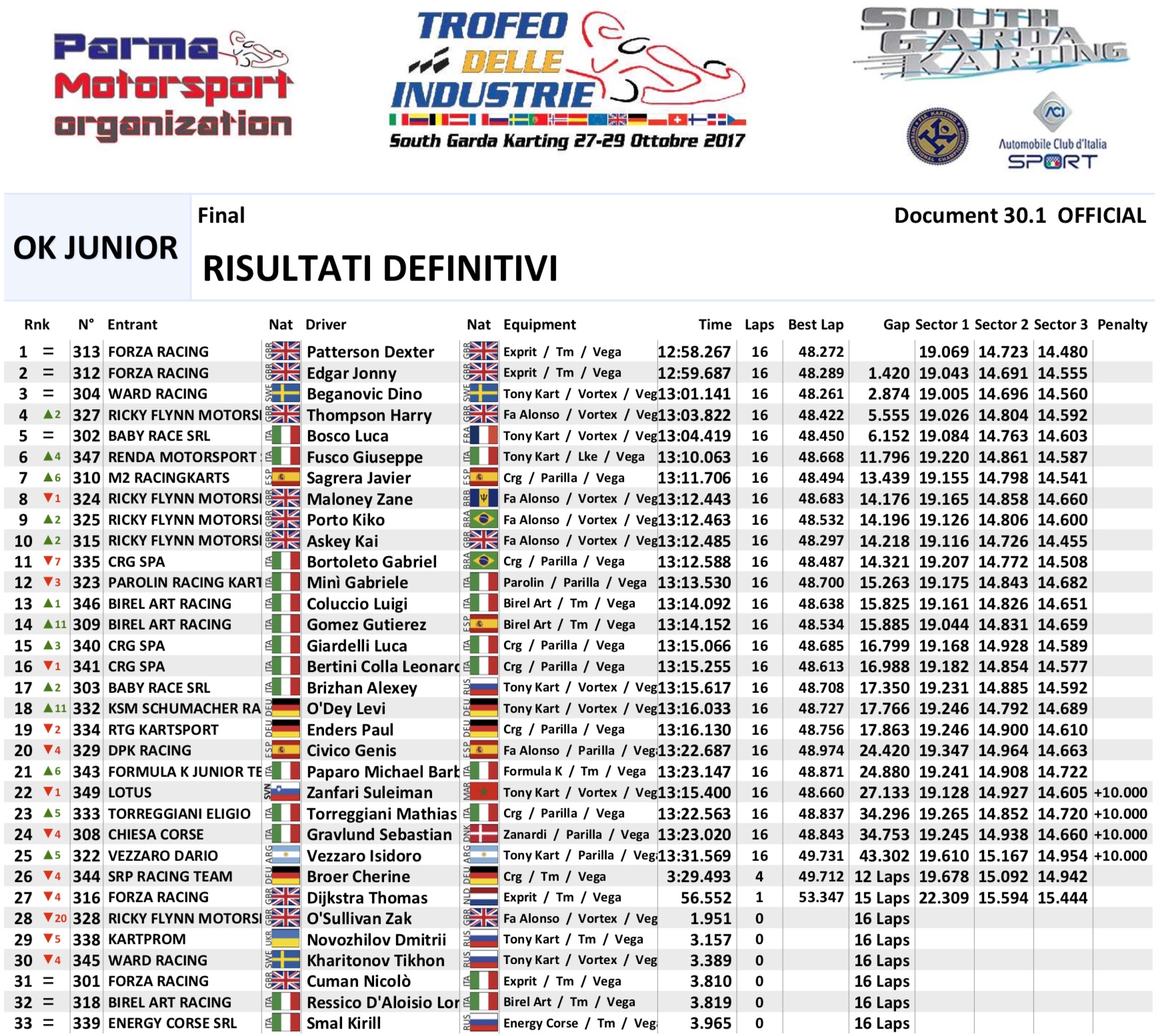 Gallery