The annual WSK Super Master Series consists of four races at four Italian tracks; Adria, South Garda (Lonato), La Conca and Sarno. Due to snow which hit Round 2 at South Garda this race was cancelled and rescheduled to take place after Round 3 at Sarno.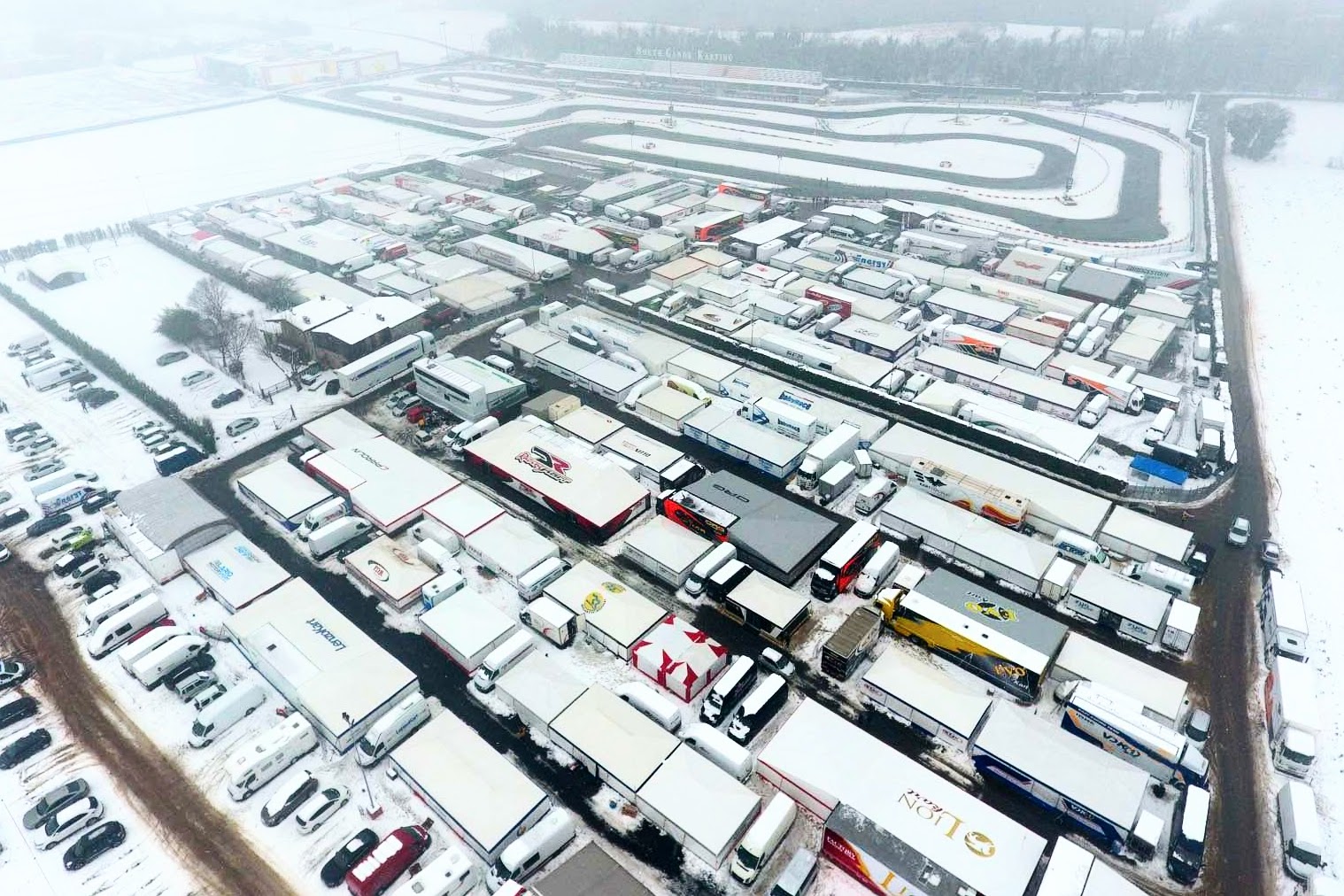 Round 1: Adria
Adria played host to the first round at the beginning of February, the first two days at the track were mostly practice in very cold and wet conditions (2ºC, strong winds, driving rain). Kai went into qualifying with the weather unchanged and his first time in the OK-Junior on the new Vega tyres in the wet. He struggled to get the best out of the kart qualifying 8th in his group which placed him a disappointed 24th out of the 81 drivers in his category.
Kai's 24th in qualifying would place him 9th or 10th on the grid for his four heat races. In the first heat which took place on Friday evening Kai started 10th and finished 13th. On Saturday in notionally worse conditions Kai finished 8th in his second heat. His third heat got underway at 1pm, looking good at the start Kai moved forward, however a lunging move by another driver saw him smashed off and unable to restart resulting in an effective 25th place. In Kai's final heat he finished 10th. Combined points from the four heats placed him 26th overall which would mean starting his pre-final (group B) in 13th position.

On Sunday the weather finally relented and gave way to warmer temperatures and more importantly a dry track. The sixteen lap pre-final took place just before midday and despite a good start Kai found it hard to move forward from his 13th place grid position finishing 12th. This would place him 23rd on the grid for the final.
Starting so far back in an OK-Junior race is always a tough proposition, Kai worked hard to move forward from the start and managed to make up 8 places over the next sixteen laps finishing 18th, a fairly good result considering the run of luck he had up to that point.
Round 3: La Conca
Due to the rescheduling Round 3 took place before Round 2 at the La Conca circuit in South Italy. Having spent a few days practicing in the weeks before Kai was feeling confident and comfortable. The weather couldn't be more different than what we'd left behind at South Garda, warm and dry for the whole event rising into the mid-20's for the finals. Qualifying took place on the Friday afternoon, the drivers were split into two groups, Kai started in the first group posting a time of 47.008 sec which was 6th fastest in group. With the second session complete Kai had placed 12th overall (of 65 drivers).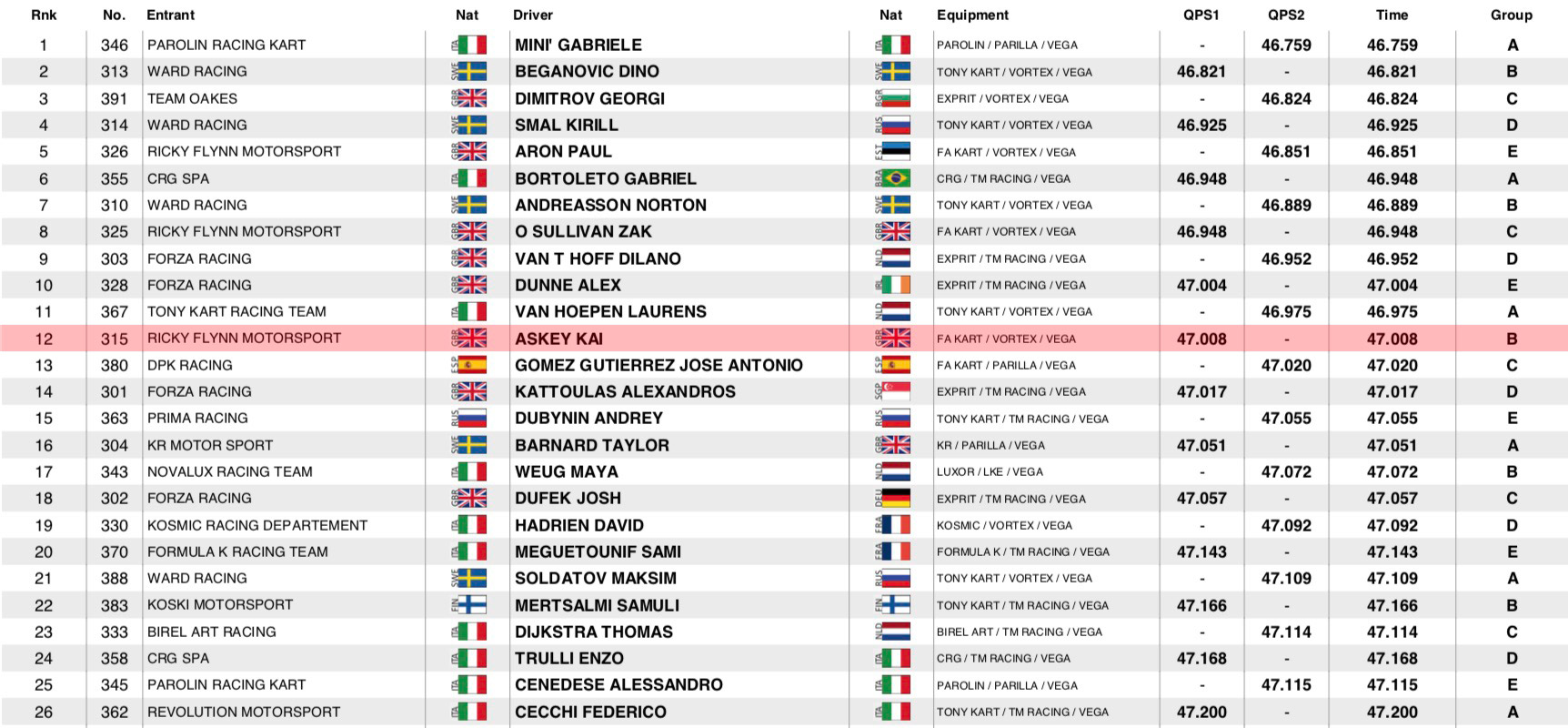 Divided into five groups Kai would have four heat races over the next two days where he would start either 5th or 6th. In his first heat (B vs D) Kai started 5th but after tough battle finished 8th. The next heat (A vs B) didn't go well, losing a few places at the start Kai was then knocked off on the 4th lap losing a couple of places, later in the race two karts crashed in front of Kai and he had to take to the grass to avoid them, eventually finishing a very annoyed 22nd. His last two heats went much better finishing 6th and 7th. Combined points from the four heats placed Kai 20th overall so he would start his pre-final 10th.
Starting 10th Kai lost a few places at the start and crossed the line 13th, however several drivers ahead of Kai were penalised for nosecone and overtaking under yellow flag and so Kai was promoted four places to 9th. His final start position would therefore be 18th.

Starting 18th was always going to be tough but Kai raced well making up six places to 12th however going into the 10th lap he was being closely followed by a driver who had already been involved in numerous incidents in that race and sure enough on the third corner this driver simply released his brake and smashed Kai off the corner leaving him stranded at the side of the track unable to restart. A bitterly disappointing end to a tough weekend and no more points towards the Super Master Series.
Round 2: Sarno
Just two weeks after Round 3 at La Conca would be the rescheduled Round 2, at Sarno (Circuito Napoli), a new track to Kai but important as it always features in Italian and European Championships (Sarno would also be the location of the first round of the CIK FIA European Championship). The rescheduled Round attracted 81 drivers in the OK Junior category, in official practice Kai was immediately on the pace as fifth fastest in practice before qualifying he was feeling confident.

Kai left the pits for his qualifying session but soon it was obvious he had a problem, the kart looked hard to drive and his times were nowhere near as good as practice. He posted a time of 59.435 sec, 0.595 sec off the fastest in his group and only good enough for 24th (70th overall). Upon returning to the pits it was immediately obvious what the problem was, one of his rear tyres was completely flat. Some issue with the tyre or rim had caused it to completely deflate. A mighty fightback would be required as Kai would now start his heats in 28th place.
Fightback Kai did.. in his first heat he made up 11 places to finish 17th, in his second 13 places to finish 15th, his third 11 places for 17th and finally 9 places to finish 19th. A total gain of 44 places across four heats now moved him up from 70th to 39th overall for the pre-finals, he would start his in 20th. Kai's prefinal started in very wet conditions, ideal for him, pushing hard he finished 10th from his 20th place on the grid. From 70th to 10th was easily Kai's best drive in a championship event and showed his maturity.
Round 4: Sarno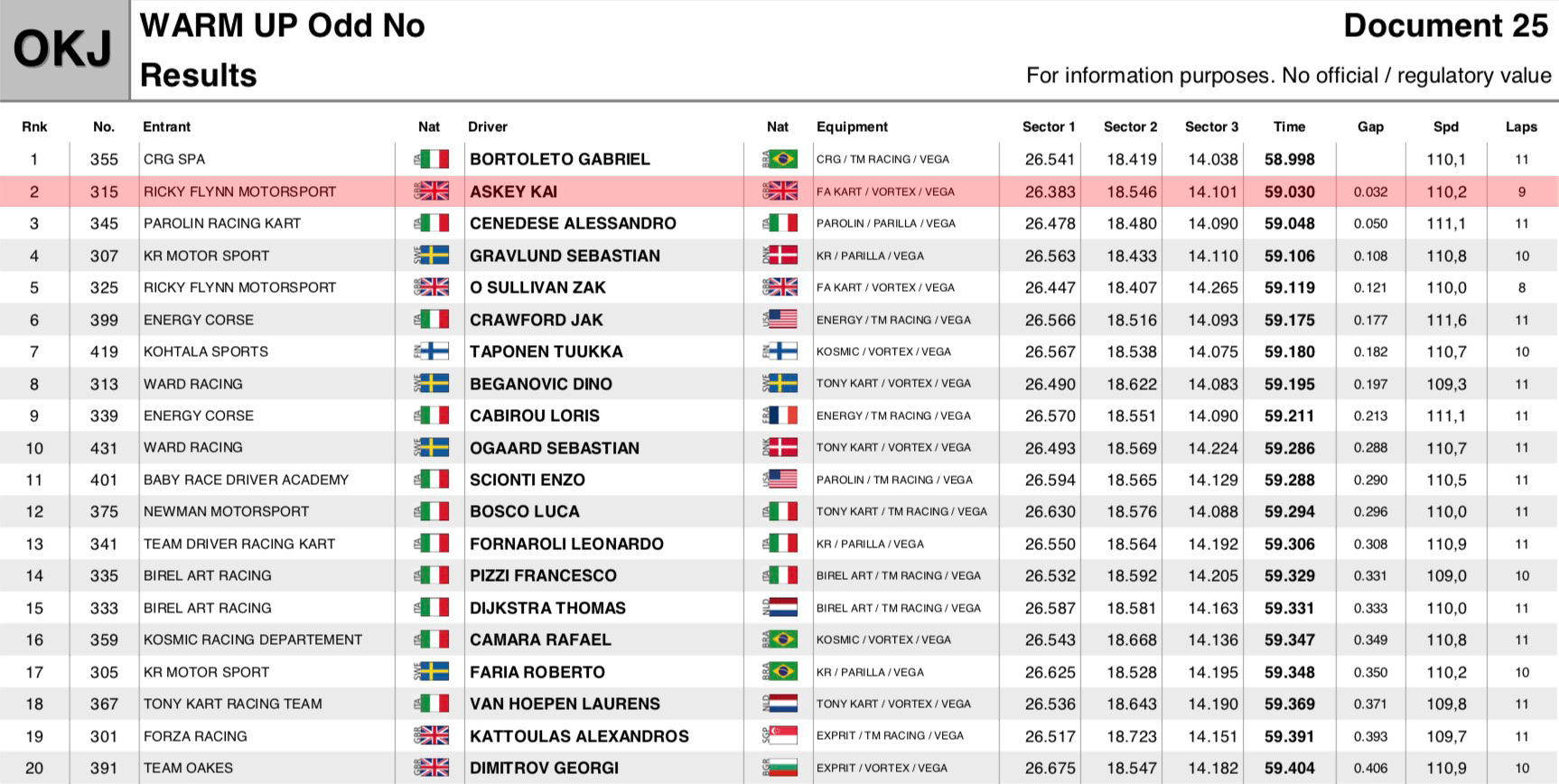 Just a week after rescheduled Round 2 the final round of the Super Master Series took place at the same track, Sarno. This weekend Kai was looking to make up for the results of previous rounds. Practice delivered mixed results but Kai felt his pace was good heading into qualifying. Unfortunately qualifying didn't go to plan, Kai was sent out after the main group to chase them but the gap was too big and he didn't manage a good lap on his own. He finished 19th in group, 56th overall meaning he would start his heats 23rd. In his heats he finished 14th (up 9 places), 18th (up 5 places), 15th (up 8 places) and 12th (up 11 places). Kai's heat results placed him 31st overall to start his pre-final 16th.
Kai finished his pre-final in 15th which placed him 29th on the grid for the final. Over the 13 laps of the final Kai made up no less than 11 places to finish 18th. Overall Kai's Super Master Series was a huge learning experience with great pace and excellent fighting spirit, the most places and overtakes he's ever achieved.
Gallery